Email & Mailing Lists (1 of 5)
Prepare Your Email for Transition
Prepare for your upcoming email transition by making sure you have set your Alumni forwarding email address and saved any old messages from your Wharton mailbox. When your account closes, email sent to your student address (pennkey@wharton.upenn.edu) will bounce back to the sender.
Change of Address Notice: Make sure your contacts know to start using your Alumni forwarding email. We recommend setting up an Out of Office email providing your new address and contact information. Include your Alumni forwarding address as well as your personal email.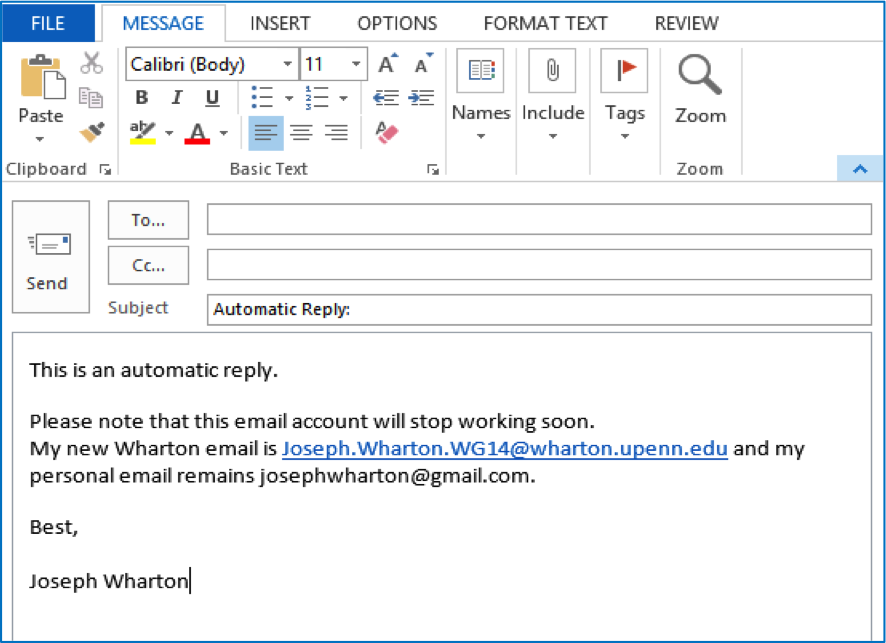 Email & Mailing Lists (2 of 5)
Set Your Alumni Forwarding Email
Your Wharton Alumni forwarding address is a forwarding address only (not an account to store e-mail). Use it to maintain a Wharton email address that you can forward to any e-mail account you choose.
Email & Mailing Lists (3 of 5)
Set Your Alternate Email Address in SPIKE Community
Set an alternate email address in SPIKE Community so that the members of the alumni community and the Alumni Office can keep in touch with you.
Login to Spike Community and click on My Profile.
Click on Edit Contact Info and enter at least one alternate email address for contacting you.
Email & Mailing Lists (4 of 5)
Save Email Messages You Want to Keep
Identify and save copies of any email messages you want to keep. You can save messages using the methods below or come to our office for assistance:
Transfer your messages to a personal Gmail account
Export your Google@Wharton mail, see: Backing Up Google@Wharton Account Data (Google Takeout Service). You can then import the backup into another mail program like MacMail or Thunderbird.
Use Outlook to create a .pst file and save for future use with Outlook in another account.
Send messages to another account. (If you choose to send messages to your Alumni forwarding email, make sure you have its forwarding set to the new account first). Allow plenty of time for this choice -- depending on your individual setup you may not be able to send messages in bulk.
Email & Mailing Lists (5 of 5)
Unsubscribe and Change Ownership of Mailing Lists
Before you leave, unsubscribe from any mailing lists you're currently on. If you are the owner of mailing lists, identify and assign a new owner for the list. (Only current Wharton students can own mailing lists)
Unsubscribe:

Use SPIKE's

Mailing List Section of My Account

to see which mailing lists you're currently on and to unsubscribe yourself.

Transfer Ownership:

Transfer ownership of mailing lists for which you're currently the owner.

Log into SPIKE, choose My Account and select Mailing Lists. Choose the List Ownership tab => Edit List and add the name of the new owners. (Don't forget to remove yourself!)

OR, if you prefer, you can contact

Student Support with the name of the mailing list and the name and email address of the new list owner.